| | |
| --- | --- |
| Name: | Inna |
| Age: | 29 |
| Height: | 160 cm = 5'3'' |
| Weight: | 47 kg = 103.6 lbs |
| User ID: | 01423 |



06.12.2015
HAPPY HOLIDAYS WITH FAVIA DATING CLUB
Dear clients! Happy holidays of Christmas and New Year are coming up very soon. We all would like to make dreams and wishes come true at this magical time. Every year Favia team makes a holiday sugge



03.01.2016
Happy Holidays!!!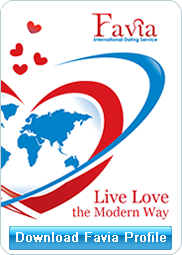 Daniele
Ciao
Il mio soggiorno a Poltava e stato perfetto , ho fatto passeggiate e visitato citta di Poltava , la traduttrice nadia perfetta in tutte le condizioni . visitato museo di Poltava .
Siamo andati in ristorante il cibo molto buono posti molto belli .
Ho incontrato la ragazza ma forse non forse quello che cercavo , non e colpa di agenzia ma non ci siamo incontrati come caratteteri , ma comunque e- stata una esperianza molto bella ritenteremo con un altra ragazza e vedremo se le cose andaranno meglio ,,,, sono molto fiducioso questa agenzia e molto seria e affidabile .
Grazie

Daniele, Italy


Sergio Carlo Oleari
Per quanto riguarda agenzia tutto bene, servizio perfetto , sono stato assistito dall arrivo in aereoporto, bene il servizio traduttore .
Philippe
It was my first visit to Ukraine, my first date, first lady, and I found people very kind. Thank you for the travel between Kharkov and Poltava. I had only one problem; I was late for the meeting with Tatiana. The interpreter was very good, and all was good. My meeting with lady was wonderful! I have good feeling with this agency and with lady also. I think, that lady was shy a little, but it was normal, because she didn`t know me. All was good for me.