| | |
| --- | --- |
| Name: | Natalia |
| Age: | 41 |
| Height: | 163 cm = 5'4'' |
| Weight: | 69 kg = 152.1 lbs |
| User ID: | 01283 |



06.12.2015
HAPPY HOLIDAYS WITH FAVIA DATING CLUB
Dear clients! Happy holidays of Christmas and New Year are coming up very soon. We all would like to make dreams and wishes come true at this magical time. Every year Favia team makes a holiday sugge



03.01.2016
Happy Holidays!!!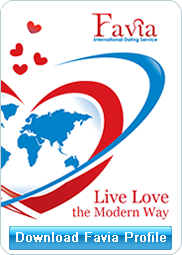 Eric
J ai passe 4 tres belle journee en compagnie de Lyudmila et d Anna. Je ne sais plus laquelle demander en mariage (lol).

Le programme concocte par Lyudmila etait varie et correspondait a mes desirs.

J ai adore la visite du restaurant ukrainien et egalement le musee de la bataille de Poltava.

J ai apprecie la journee passee avec Egor. Faire ainsi sa connaissance est tres important.

La sympathie et la complicite de Lyudmila font de cette rencontre une grande difference avec mon voyage de novembre et decembre dernier. J avais une apprehension de choisir une dame de Poltava suite a la deception de n avoir jamais recu les coordonnees d Oksana lorsqu elle s est desinscrite en novembre et qu elle voulait continuer notre correspondance.

Anna est une excellente traductrice, gentille et tres serviable.

Je quitte Lyudmila pour rencontrer Yuliya et Elena a Kharkov, avec le sentiment de partir la-bas confirmer que Lyudmila est bien la dame que je cherche. Je garde pour moi les 4 elements qui me font encore hesiter.
Il y a 2 autres elements qui sont important pour moi : l age du garcon et la date eloignee d une possible visite de Lyudmila chez moi.

Je remercie l agence pour l aide apportee lors de ces jours.


Eric, Belgium


Sergio Carlo Oleari
Per quanto riguarda agenzia tutto bene, servizio perfetto , sono stato assistito dall arrivo in aereoporto, bene il servizio traduttore .
Philippe
It was my first visit to Ukraine, my first date, first lady, and I found people very kind. Thank you for the travel between Kharkov and Poltava. I had only one problem; I was late for the meeting with Tatiana. The interpreter was very good, and all was good. My meeting with lady was wonderful! I have good feeling with this agency and with lady also. I think, that lady was shy a little, but it was normal, because she didn`t know me. All was good for me.