| | |
| --- | --- |
| Name: | Margarita |
| Age: | 33 |
| Height: | 167 cm = 5'6'' |
| Weight: | 57 kg = 125.7 lbs |
| User ID: | 01563 |



08.04.2019
Engagement in our dating agency



09.04.2019
Happy Birthday To Us!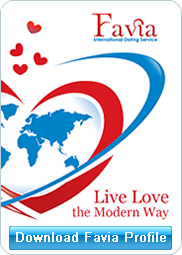 Sebastien, France
Je suis tres reconnaissant de l equipe de personnel de Favia, il sont tous
formidable. Le premier jour que je suis arriver j ai etait acceuilli tres chaleureusement
par le chauffeur et Alina. Que je remercie beaucoup. Je remercie enormement Helene
Bieliakova pour m avoir beaucoup aider pour visiter les magasins de Poltava, sa
compagnie etait tres chaleureuse. C est une personne tres agreable et tres charmante
et souriante. Je remercie Inna la personne qui ma acceuilli a l aeroport a Kiev. Pour
la ville de poltava, je suis venu une seconde fois dans cette ville qui est toujours
aussi joli, j aime beaucoup les restaurants et les cafes qui sont tres romantique et
chaleureux. Je veux dire a toutes l equipe de l agence favia que mon sejour a Poltava
a etait merveilleux. J espere qu avec Elena, notre relation pourra devenir positive.
Je vais garder espoir pour se sujet. Je remercie beaucoup toutes l equipe de l agnce
de «Favia».

Sebastien, France

Atif
It is a good opportunity to say thanks for all your team in the lovely agency with helpful employees. I have not faced any difficulties in my trip. and I met with a nice and beautiful lady. Interpreter was nice with us (Anna). My trip to Poltava was good too with a professional driver and nice lady (Alina) she also help me with everything and arranged all events. So thank you guys for everything that have been done to me. Now all my thinking is about our future and what we will end up in our journey... Thanks a lot! Atif, Saudi Arabia
Sergio Carlo Oleari
Per quanto riguarda agenzia tutto bene, servizio perfetto , sono stato assistito dall arrivo in aereoporto, bene il servizio traduttore .