| | |
| --- | --- |
| Name: | Inna |
| Age: | 42 |
| Height: | 158 cm = 5'2'' |
| Weight: | 50 kg = 110.3 lbs |
| User ID: | 00390 |



08.04.2019
Engagement in our dating agency



09.04.2019
Happy Birthday To Us!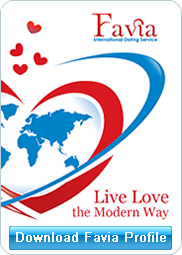 Laurent, France
J ai aime l ensemble des services de FAVIA , notament
Les visites dans les differents musees et galeries d art de Poltava
Oksana m a beaucoup aide surtout pour la connaissance de l histoire de Poltava
Et de l Ukraine
Mais aussi dans les differents rendez vous avec Nina
Lors de ces rendez vous, j ai apprecie les differents loisirs que nous avons
Effectue notament les restaurants, j ai ete surpris de la qualite de la nourriture
J aime beaucoup Nina, je pense que c est une personne tres intelligente et tres agreable a
vivre
Et qui pourrait tres vite s integrer a la culture francaise.
L accueil de votre bureau est agreable, et les personnes y travaillant sont tres competentes
Et acceuillantes
L appartement est spacieux et moderne, le seul petit probleme a ete de faire fonctionner l eau chaude et la TV, mais apres quelques recherches , cela fonctionnait tres bien.
Le transport aller de l aeroport s est tres bien passe
Je serais toujours tres ravi de revenir a Poltava

Laurent, France
06.10.2011


Atif
It is a good opportunity to say thanks for all your team in the lovely agency with helpful employees. I have not faced any difficulties in my trip. and I met with a nice and beautiful lady. Interpreter was nice with us (Anna). My trip to Poltava was good too with a professional driver and nice lady (Alina) she also help me with everything and arranged all events. So thank you guys for everything that have been done to me. Now all my thinking is about our future and what we will end up in our journey... Thanks a lot! Atif, Saudi Arabia
Sergio Carlo Oleari
Per quanto riguarda agenzia tutto bene, servizio perfetto , sono stato assistito dall arrivo in aereoporto, bene il servizio traduttore .